E Mudhra
The Digital Expressway Of Document Signature Management
Seamless Has Become Success With 3 Decades Of Raqmiyat Solutions
emSigner is a document processing automation solution that simplifies signature management on documents using globally accepted legally valid electronic or digital signatures. In the process, it eliminates the need to print, manually sign, and scan documents. And that means you go 100% secure and paperless to save up to 80% of your costs in getting an on-paper document signed for processing. And it happens fast – as if you're on a digital expressway of document signature management.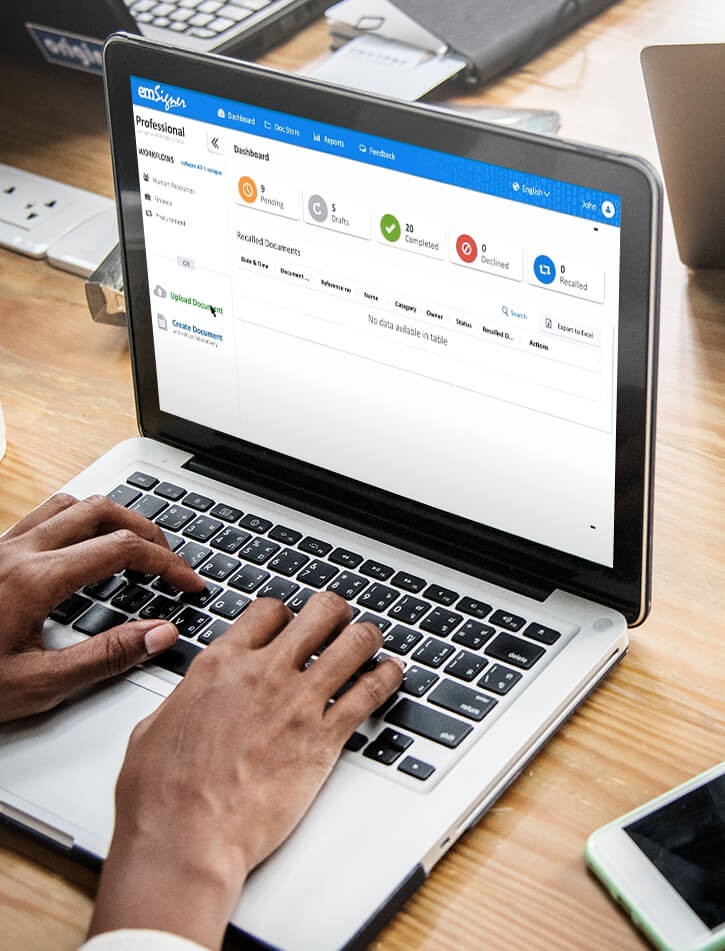 Digital Expressway Differentiates
With eMudhra Giving A Boost To Document Signing Experiences
Creation, tracking, and managing workflows without any codes
Easy-to-use Interface
Supports digital signing of all types of documents
Enables signing multiple documents in one go, with bulk signing
Allows remote signing using long-lived and one-time cryptographic key pairs
Easy integration with emSigner with either powerful API's or Signer Gateway
Has a comprehensive audit trail of every document with time-stamping, change tracking and version controls.
Dynamically routes documents to different approving authorities based on rules.
Adheres to US ESIGN Act, eIDAS, Indian IT Act, UNCITRAL Model Act and more
Shares and validates from anywhere, anytime, thereby providing greater convenience to all the concerned parties
Acts as a certified Cross Certification Service Provider in the UAE
eMudhra supports UAE Pass
Digital Signature Process Into High Gear
With Signature Speed Comes Success
For Individuals, SMBs, And Enterprises
Finance –
Invoice Signing | Credit and Debit Notes | Others
HR –
Offer letter | Agreement | Others
Legal –
Contracts | Director Filings | Others
Procurement –
Vendor/Supplier Onboarding | Contracts | Other
Banking –
Digital Banking | e-Statements | Electronic Loan Processing
Insurance –
e-Policy & Fraud Mitigation | e-Receipts | e-Claims
eGovernance –
e-Licensing | e-Certificates | Citizen-to-Government e-Services
Education –
e-Diplomas | Digital Transcripts/Marksheets | Student Enrolment
Manufacturing –
Contracts | Dealer/Distributor Onboarding | e-Invoicing
Telecom –
Employee Onboarding | Mobile/Landline/Broadband Connection and Authorization Documents | Others