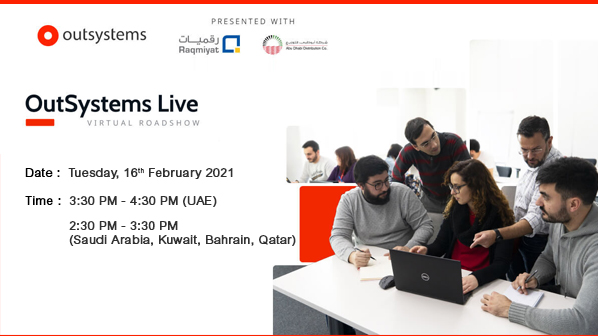 Raqmiyat and OutSystems would like to invite you to OutSystems Virtual Live – an online, 1- hour session to hear from our Customer Abu Dhabi Distribution Company and about their use case with the OutSystems platform and why you should care.
After a brief overview of OutSystems, you'll get to experience what it's like to build a real-world app with the platform – in just one hour, online.
What You'll Take Away
Why developers and IT professionals choose the OutSystems platform
The types of IT and business challenges you can solve with OutSystems
What it's really like to build software with OutSystems
Speakers
Mr. Mohamed Elgaali, Business Technology Specialist, Abu Dhabi Distribution Company (ADDC)
Mr. Khaled Tawfik, Account Executive Director, Middle East and Africa, OutSystems
Mr. Hisham Barrania, Senior Solutions Architect Manager, Middle East and Africa, OutSystems
Mr. Syed Jehangir, Project Lead, Raqmiyat
We hope that you'll be able to join us.
Register Here: https://bit.ly/3c0fqBc