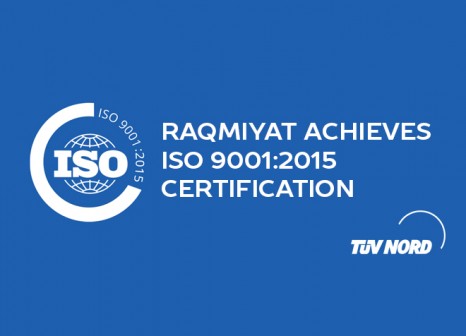 Raqmiyat has achieved International Organization for Standardization (ISO) 9001:2015 certification. By meeting the extensive criteria for these standards, Raqmiyat affirms its ability to consistently deliver effective quality management systems, comply with security requirements, and drive continuous improvements to products, services, and internal processes.
Amer Khreino, Chief Executive Officer, Raqmiyat said "Raqmiyat is committed to continuing its excellence in providing best of breed services and solutions to our valued customers while, adhering to best industry standards. Today, our QMS ISO 9001:2015 certification only assures our customers with this commitment to quality measures, affirming that all our internal processes and controls are well in place. We are delighted by our great performance this year, where we didn't only exceeded our business and financial goals, but also, exceeded our internal operational goals, with two more certifications; ISO 9001:2015 and CMMI L3 shaping our operational and delivery excellence".
The world's most popular quality management system standard, ISO 9001:2015 helps businesses prove their ability to consistently provide products and services that meet customer and applicable statutory and regulatory requirements. Obtained through external audits performed by TUV Nord, a world-class ISO certification organization and an independent accredited registrar company, the certification aims to enhance customer satisfaction through the effective application of a company's system, including processes for improving the system and assuring compliance with various regulations.