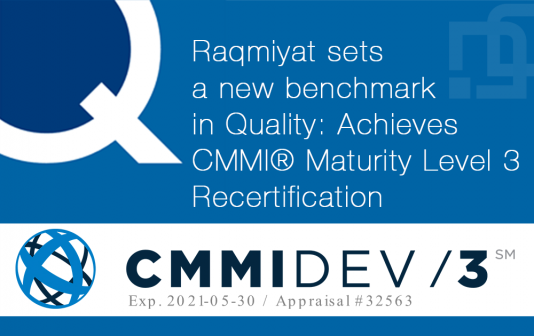 Raqmiyat has been reappraised at CMMI level 3 administered by the CMMI Institute, a subsidiary of ISACA.
Raqmiyat was initially appraised at CMMI-DEV level 3 Maturity in 2015, demonstrating a continued commitment to the quality and process improvements, which helped in obtaining a recertification – Capability Maturity Model Integration (CMMI) Level 3 for Development CMMI-DEV Version 1.3 SCAMPI Class A. This recertification maintains Raqmiyat's position among an elite group of business enterprises – it attests to the high standards and indicates that the organization uses industry defined processes that are managed proactively, and establish consistency in execution across the firm.
What our CMMI maturity level 3 rating means for our customers:
Our work and processes have received the highest form of third-party validation.
We take a proactive approach to managing projects and processes.
We're dedicated to continuous improvement and producing great work that makes a difference.
Amer Khreino, Chief Executive Officer, Raqmiyat said "Raqmiyat is committed to deliver projects of the highest quality standards, CMMI Level 3 recertification only proves our claim. Our vision and strategy revolve around customers success, hence, their profitability, time to market and satisfaction can't be ever compromised! CMMI Level 3 moves our team from fire-fighting approach to fire prevention excellence, to protect our customers' investments."
The appraisal was conducted by IT Process Advisory Compliance and Training Services, evaluated the company's process maturity in 17 process covering areas such as Project Planning, Project Monitoring and Control, Integrated Project Management, Risk Management, Configuration Management, Process Product Quality Assurance, Requirement Management, Requirement Development, Technical Solution, Product Integration, Verification, Validation, Decision Analysis and resolution, Measurement & Analysis, Organization Process Focus, Organization Process Definition, Organization Training.