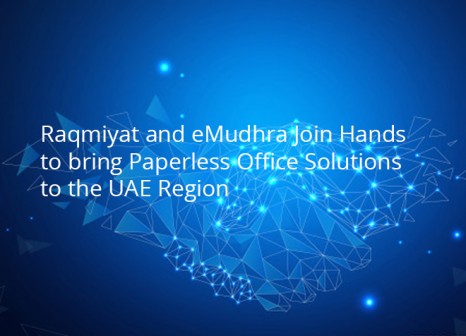 Raqmiyat, is now an authorized reseller of eMudhra products and services for the UAE Region. eMudhra, a digital identity and transaction management solutions firm focused on enabling organizations to go paperless and digital in a risk-free manner.
Raqmiyat sees this partnership as a strategic engagement with the purpose of enabling our customers to adopt sophisticated Identity Management, Paperless Office, and PKI solutions that significantly empower organizations in today's world.
Commenting on this partnership, Amer Khreino, Chief Executive Officer, Raqmiyat, said, "Our partnership with eMudhra will empower our customers; giving them ways & means to secure their business, as they move towards the digital transformation arena. Secured e-signatures / Digital signatures, two/ multi-factor authentication, SSO, Digital ID, and paperless office are amongst eMudhra's leading technologies that will benefit our customers. We look forward to new gains with eMudhra in the years ahead".
Arvind Srinivasan, Head Global Markets, eMudhra, said "Solutions aimed at addressing secure digital transformation are the need of the hour in the Middle East region, and specifically, UAE. Raqmiyat has been a strong, long-lasting player in the market focused on making digital transformation easy for many firms in the region. We are glad to partner with Raqmiyat and are highly confident in the success that will result from a combination of their expertise and our solution stack."