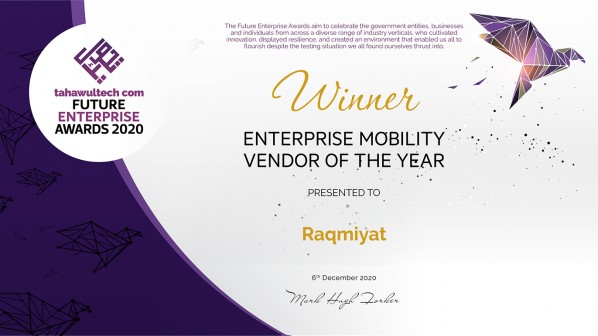 Tahawultech.com and CPI Media Group hosted The Future Enterprise Awards 2020, a virtual award ceremony that held very recently.
The Future Enterprise Awards is the flagship awards ceremony in the IT industry here in the Middle East – and they recognized the business enterprises and individuals that have demonstrated tremendous leadership and pioneered innovation within the IT sector over the last 12 months.
Mr. Saeed Mohammad Al Ghurair, Managing Director, Raqmiyat, received a Personality Award for "Outstanding Leadership In The New Era Of The Fourth Industrial Revolution."
Under the Enterprise category, Raqmiyat bagged the 'Enterprise Mobility Vendor Of The Year' Award for the successful implementation of mobile computing services and reshaping the customer experience which has brought an increase in ROI for the organizations covering industries such as Government, Aviation, and Corporates in the UAE and KSA region.
You can watch the full award ceremony here: https://bit.ly/2L3sERZ
A very proud moment for the entire Raqmiyat family!