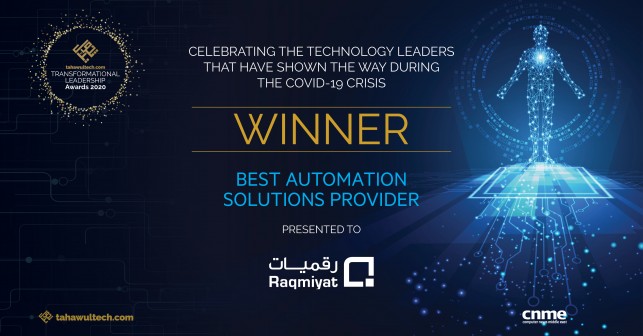 Raqmiyat wins 'Best Automation Solution Provider' at The Transformational Leadership Awards, a first-of-its-kind virtual awards ceremony hosted by CPI Media Group and Tahawultech.com
Transformational Leadership Awards honoured organizations and IT leaders, who have leveraged their expertise and knowledge to equip businesses with the tools to cope and reshape the world post-COVID-19. 15 IT vendors and 35 end-users were recognized during this event.
The global COVID-19 pandemic has pushed organizations across multiple industries to re-think the way they operate to ensure business continuity. While many continue to struggle in adapting to this paradigm shift, some have turned the challenges brought by the pandemic into an opportunity to fully embrace the digital era.
In line with the 'new normal', the event was virtually attended by over 200 industry players, who joined the celebration in honouring the success of the business and IT leaders who have shown excellence in championing the transition to new working models and in accelerating digital transformation amid these challenging times.
The virtual event also featured an exclusive panel discussion with some of the most prominent figures from the IT ecosystem in the Middle East.
You can watch the event here:https://www.youtube.com/watch?v=-6dB8eVMfKI&feature=youtu.be