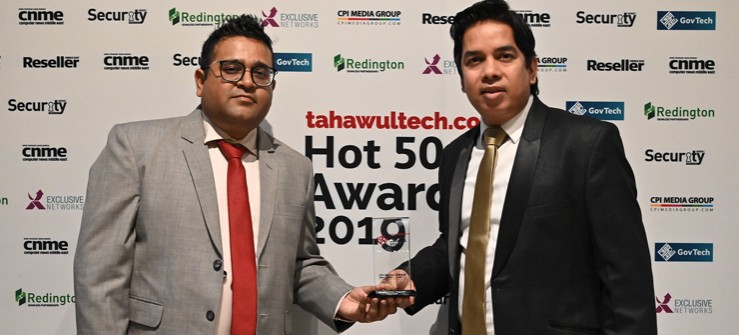 Raqmiyat wins the "Best System Integrator of the Year" Award for 2019 at the eighth edition of Tahawultech.com's HOT 50 Awards. The HOT 50 Awards recognized organizations and individuals who have demonstrated a commitment to developing the regional technology landscape by creating value for clients, partners and themselves.
With over 150 attendees, the exclusive event served as a platform for industry stakeholders to network and celebrate the successes of the year. Players that are committed to the enterprise IT and channel businesses and have catered to the evolving customer demands innovatively were recognised as part of the elite Hot 50 club. Chosen carefully by the TahawulTech.com team, the winners have developed and shaped the regional IT business over the last year.
The award was received by Mr. Abhijeet Sanyal, AVP – TSS of Raqmiyat and Mr. Melvin D'Souza, AVP – BFS of Raqmiyat at a gala award ceremony which was held on 9th December 2019 at The Terrace, The Loft, Dubai Opera, Dubai.
Here is the link to the award receiving video: https://youtu.be/w58nMYZ4l2Y